Go Belugas Go! is the 17th episode of Season 5 and is the 97th episode overall. It was originally aired on November 1, 2010.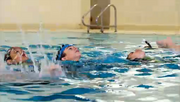 Characters
Edit
Active Characters
Edit
Ruff
Blossom
Chet
Shreya
Marco
Emmie
Marc
Rubye
Jay
Temporary Characters
Edit
Tank
Tom
Trixie
Grandma Ruffman
Supporters
Edit
Emily
The Synchers
Allison
Naku the whale
Audience
The episode starts with a preview of Ruff's softball team explaining their win over all the reality game shows in the Reality Game Show League. However, they have a new opponent, Team Go Get It. Ruff turns off the TV and says that he's excited to beat Go Get It. However, Blossom gets a text saying that the Reality Game Show League is doing synchronized swimming instead of softball this year. It also includes that all players must get a check up from the vet, including blood work. Ruff says that blood work makes him queasy but he says that he'll do it if it means beating Go Get It.
Ruff explains to the contestants that he and the FETCH crew are going head-to-head against Go Get It in synchronized swimming. He is wearing a swim suit with flowers on it and the FETCHers laugh at him. Ruff ignores it and explains Challenge #1. He sends Rubye, Shreya, and Marco to learn synchronized swimming. Then he sends Marc to Challange #2 to do a complete checkup on a beluga whale to prove that the vet is nothing to be scared of. Jay and Emmie stay behind in the studio to participate in the Half-Time Quiz Show.
editing.
Triumph Tally
Edit
Episode Total
Edit
Marc (90 pts.)
Rubye (85 pts.)
Marco & Shreya (80 pts.)
Emmie & Jay (45 pts.)
Overall Total
Edit
Emmie (1,146 pts.)
Rubye (1,142 pts.)
Marc (1,131 pts.)
Jay (1,127 pts.)
Shreya (1,115 pts.)
Marco (1,090 pts.)